By Joy Amaka Onweani
Over 25 million visitors will be in Dubai beginning this October 1, 2021 as one of the world's most fascinating cities play host to the World Trade Expo for six months to end March 31, 2022 and and GITEX  Technology Week scheduled to hold October 17-21, 2021.
This year GITEX is the biggest so far, partly influenced by Dubai's hosting of the World Expo with over 197 countries signed for the trade event including Nigeria. Africa's largest economy is showcasing on the Nigerian Expo ground valued in excess of USD 2 million with the strong support of the UAE government. GITEX 2021 also celebrating the UAE Golden Jubilee with specially designed events including GITEX Global VISION..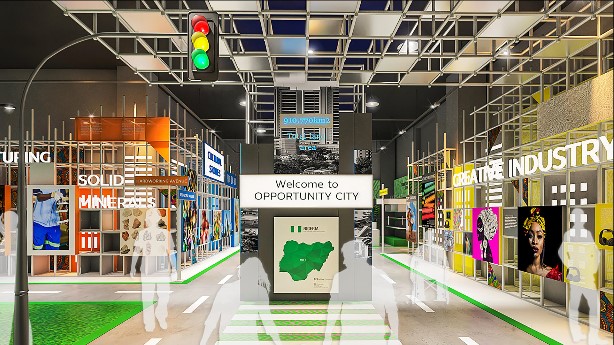 Nigeria is fully participating and on ground for the World Trade Expo through the Federal Ministry of Industry, Trade and Investment (FMITI) with the support of the Ministry of Foreign Affairs and the Nigeria Embassy in UAE. FMITI's officials are already actively preparing for Dubai opening.
The global kickoff ceremony is October 1, 2021. The Nigeria Expo ground already has series of investment-centred events by the Nigerian government managed by the Nigerian Investment Promotion Commission (NIPC) in collaboration with the Nigerian Arabian Gulf Chamber of Commerce.
GITEX 2021is global industry 'Come Back Event'
For many countries and industries, GITEX 2021 is the Come Back Showcase Event. More than 3000 big tech and 700 startups from over 140 countries will be showcasing their cutting-edge innovations in AI, 5G, Cloud, Big Data, Cybersecurity, Quantum Computing, Data Economy, Blockchain, Fintech and Martech at GITEX, this year's GITEX 2021.
Trade visitors for the GITEX Technology Week 2021 is projected to exceed 200, 000 as the global tech community prepares for life beyond the pandemic
Country ministers featuring in tech-vision sharing for next 10 years
The GITEX 2021 will feature the GITEX Global VISION as part of UAE Golden Jubilee with Nigeria, South Africa, and Kenya joining government leaders from the Middle East to pitch their 10 year vision of advancing the digital economy of their respective country to investors and prospective development partners. Nigeria's Minister of Communication and Digital Economy, Prof Isa Ali Ibrahim Pantami, is already billed to speak at this global forum.
GITEX 2021 is 100% sold out
This year's event is already 100% sold out according to the Dubai World Trade Centre (DWTC), organisers of the event. About 40% are first time exhibitors to further deepen GITEX 2021 as great new tech showcases and networking opportunities.
The event, the 41st edition, is anchored on post pandemic recovery worldwide and will showcase the latest technologies and innovations across various sectors.
GITEX 2021 is sustaining its hallmark as the platform with the largest government participation in the world with more than 200 entities.
NITDA leveraging Nigeria's participation on global partnership
The Nigerian government through the National Information Technology Development Agency (NITDA) is already making preparations for the country's participation at GITEX 2021.
The country plans to leverage its participation at GITEX 2021 to further explore global partnership for the country's shift to digital economy and support for its thriving startup ecosystem, said Director General, NITDA, Kashifu Inuwa Abdullahi, while officially inaugurating the Local Organising Committee (LOC) for GITEX 2021 in July.
RELATED
Nigeria Leveraging GITEX 2021 To Promote Digital Economy As NITDA Inaugurates LOC
UAE To Mark Golden Jubilee With GITEX Global Visions Highlighting Innovation Of MEA Governments